What is Whitman Farms?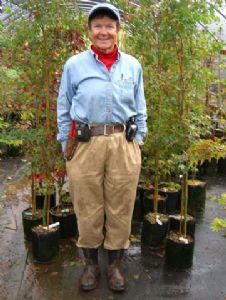 Whitman Farms began in 1980 as an informal nut tree and small fruit adjunct to a large bareroot nursery next door in Salem Oregon. It was a one-woman show and mostly for fun. However, Lucile Whitman (pictured), the owner, got sidetracked; she became enamored of unusual ornamental trees and started planting any weird and wonderful woody plants she ran across, using root control bags, a new plant-friendly technology.
It was still a hobby so it was not a problem when she had to give away plants no one would buy because they were unknown.By the end of the decade, the nursery was no longer just a hobby, no longer one-woman (employees- yes!!), and Lucile had become known as a producer of hard-to-find trees and shrubs.
Most of this material in root control bags is sold to retail nurseries and landscapers in the Washington, Oregon, California corridor who are amazed that such large trees can be produced with such a small light root ball which roots out so quickly into a pot or landscape situation. As the wholesale business developed, Lucile still maintained a small retail/mail-order business selling gooseberries, currants, other small fruits and nuts.
At the suggestion of her son Josiah, designer of web pages (ahem!), she realized that since she was shipping anyhow, she could send most of her specialty landscape trees UPS also. Hence here we are today offering on the web a unique item: trees of good caliper and up to 6′ tall that won't be found at the local nursery.